Women's Day: TOSB speakers weigh in on what it means to be #EachForEqual
In conversation with TOSB speakers Deepa Malik, Eika Chaturvedi Banerjee and Shruti Swaroop for International Women's Day 2020. TOSB's exciting TweetChat with our leading women speakers offered some interesting takeaways on why individual action is important and what each of us can do in our own capacity to be #EachForEqual.
Can individual actions create collective change?
Ours speakers spoke passionately on individual actions motivating people and driving social change. One voice can act as the impetus for many more to come forward.
Paralympian Deepa Malik's own story is an inspiring reminder towards this. Deepa has set innumerable records, redefining the meaning of "ability" for millions of people. But when she decided to compete in a car rally, her determined efforts had far reaching repercussions for drivers with disabilities.
Not only did she attain a rally licence, making her the country' first physically challenged individual to do so, but this led to a policy change and valid licences for drivers with disabilities – a huge step towards changing the narrative towards disability access.
As someone who strongly believes in turning inwards for the right answers, Eika Chaturvedi Banerjee made a compelling case for individual passions and purpose shaping social movements. When individuals make powerful choices, expressed through their actions, these are the impetus towards collective change.
True to form, Eika urged people to firstly be true to themselves. We must "become our own brightest, best-est, brilliant-est versions… and lead our own selves before preaching others," said Eika.
Inclusion expert Shruti Swaroop highlighted some powerful statistic that warrant individual action:
Women have 68% of the rights, opportunities and access to resources enjoyed by the world's men
In over 155 economies, at least one gender-based legal restriction exists on women's employment and entrepreneurship
Globally, the wage gap between men and women is still 23%
Only 67 countries have laws against gender discrimination in hiring practices
How important are female role models to inspire change?
Inclusion expert Shruti Swaroop explains that our brains are wired to connect and mirror the behaviours of those we aspire to be. Hence, when female role models – in any field – challenge biases, they inspire those who look up to them, to do the same.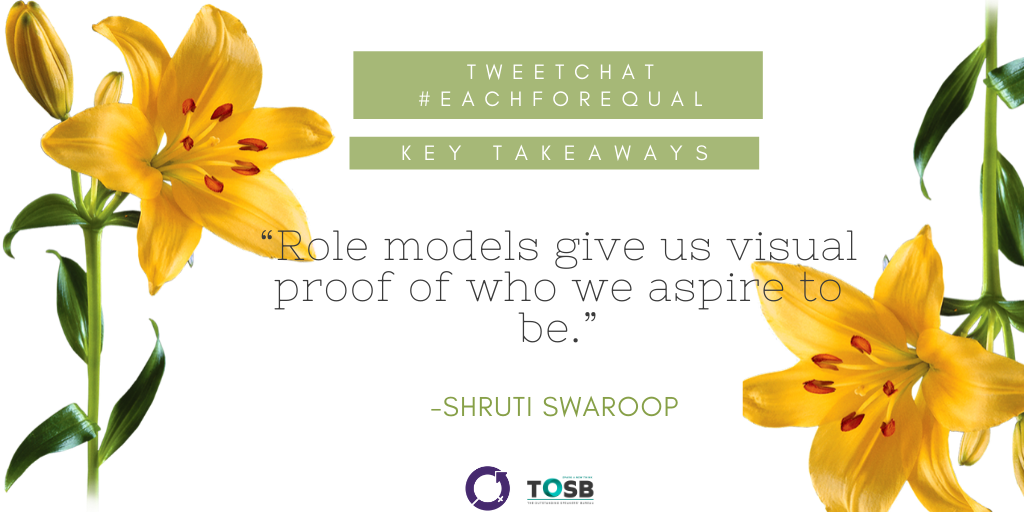 Deepa Malik highlighted that as 50% of the world's population, any woman in a leadership role is a powerful influence for positive change. Such examples are the much-needed impetus needed for the next generation to believe in themselves and in the capabilities of women.
According to Eika, the feminine principles of intuition, nurture and instinctive collective thought – are the necessary seeds of social transformation. And together with nourishment from the community, these seeds then transform into the mighty oaks of empowered people.
So, how can we be #EachForEqual?
We asked our speakers how individuals can further the cause of gender parity within their own capacity and spheres of influence.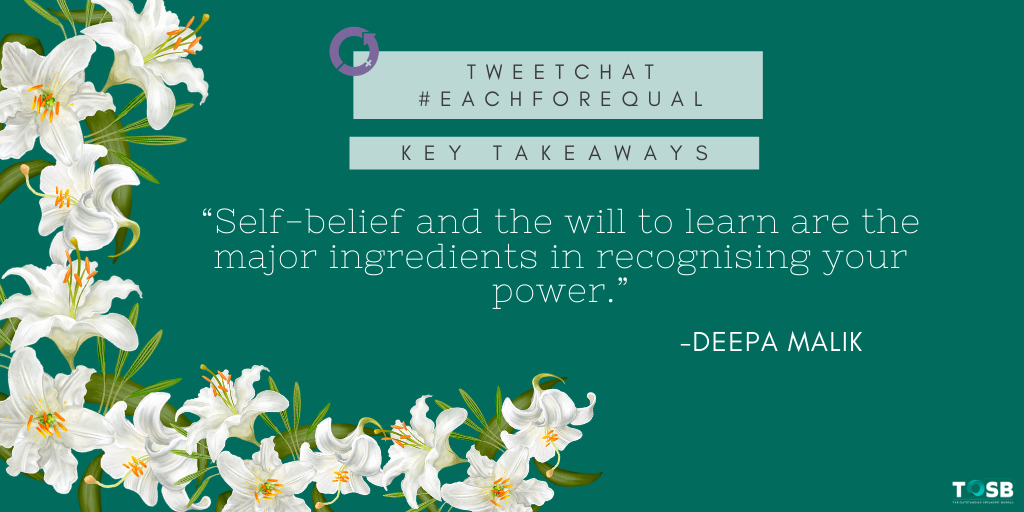 Deepa urges us all to cultivate inclusive mindsets, not just within ourselves but also our families. "Stand up for yourself and other women, take on roles of responsibility and leadership wherever you can, to ensure we are moving forward the conversation", says Deepa.
Eika strongly believes that the barriers to gender parity begin within our own minds. To be our best selves means a fundamental shift from focusing on what we do and what we have to do towards understanding what we really want to do and who we want to be.
Eliminating prejudice and patriarchal mindset needs each of us to speak up when we observe these around us. Shruti pointed out that when women face occupational segregation and barriers—such as lack of access to land, capital, financial resources and technology, as well as gender-based violence—these are due to cultural mindsets and stereotypes. A strong and informed voice is necessary to address these.